To address the everchanging landscape of China and its role in Chinese language learning, EAS Professor Hsiao-wei Rupprecht published Speaking Out: Issues and Controversies 各抒己见 with co-authors Jianhua Shen (Yale University), Dr. Gang Pan (York University), Dr. Yanfei Li (U of T) and Yu Wen (U of T) in the summer of 2020. This advanced Chinese language textbook presents ten lessons which reflect major concerns in contemporary China and invites students to reflect upon the forces shaping modern Chinese society.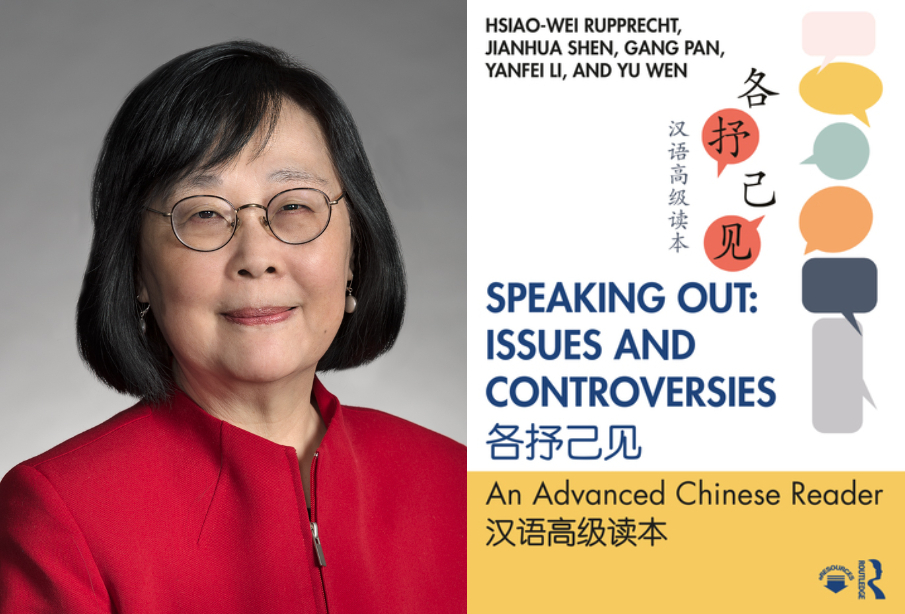 U of T students learning Chinese under Professor Rupprecht and her teaching team know first-hand how rewarding learning the language can be and how the ways in which China is rapidly transforming influences their knowledge.
The EAS Department asked Professor Rupprecht some questions to learn more about the new textbook and how it will prepare advanced learners of Chinese.
Your textbook aims to not only help advanced learners of Chinese improve their language skills but also to make them aware of important issues happening in China. Why was it important for you to provide readers with context about contemporary China?
Language is intrinsically connected to the conditions of a society. Over the past thirty years, Chinese society has undergone a whirlwind of changes. The Chinese language has evolved to reflect these new realities. It is imperative that students learn vocabulary in the context of the times. Only then will they be equipped to engage in meaningful conversations in the real world. 
What prompted you and your co-authors to create this textbook? What will students gain from it?
In North America, there is a dearth of instructional material for advanced Chinese students. To create their course packs, instructors often assemble material from a hodgepodge of sources, including the few advanced Chinese language textbooks currently available. Although these textbooks typically provide useful background material on Chinese culture and society, they do not directly address pressing contemporary concerns.  Furthermore, most advanced textbooks emphasize reading, listening and writing over speaking. It was against this background that we compiled Speaking Out: Issues and Controversies.
Following up on the topic of other advanced Chinese language textbooks, how is Speaking Out: Issues and Controversies different from the other ones on the market?
This textbook's emphasis on speaking distinguishes it from other advanced textbooks currently in use. Debate exercises are an essential feature of this book. These exercises teach students how to present convincing arguments and engage debate opponents in Chinese. Three lessons give examples of how to defend a position; five lessons present examples of how to argue both sides of an issue. In our fourth-year Chinese course at the University of Toronto, EAS402, the debates have been the activities that our students have welcomed and enjoyed.
Speaking Out: Issues and Controversies 各抒己见 is available for purchase online and anywhere books are sold. We are also hosting a book launch to celebrate the release of the textbook on March 1, 2021 from 3:30pm-4:30pm EST on Zoom. U of T students who sign up will be entered into a giveaway to win copies of the textbook. Registration is required.
Categories