The Department is celebrating EAS undergraduate student Michelle Lai's success at the 34th Canadian National Japanese Speech Contest.
Michelle previously competed at the Regional Ontario Japanese Speech Contest on March 4th and received a First Prize in the Open Category, securing her place at the national finals at The Japan Foundation in Toronto.
At the national event, Michelle presented an extended version of her original speech, titled 'My Nutrition Facts', winning her a Special Prize award in the Open Category.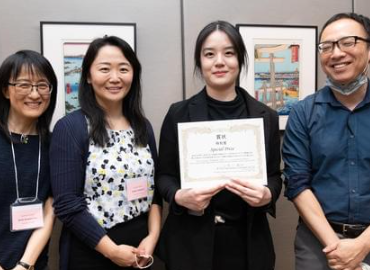 She spoke about her experiences being exposed to different cultures, and how Canada is the place where she can truly be herself without choosing only one cultural identity.
On taking part in the contest, Michelle said, "I decided to participate in the Japanese Speech Contest to prove that even if I am not Japanese, or whether we are Japanese heritage speakers, or we are still learning Japanese as a second language, it is still possible for us to stand on the stage to provide a whole speech to the audience.
Also, since I'm doing linguistics, I am a linguaphile, and especially interested in East Asian languages, so I think learning languages is not only the language itself but also history, culture, people etc.
That's why I went to the contest, and it was a great opportunity to meet with people from other universities who have the same background as me."
Congratulations, Michelle!
Categories