Flags will fly at half-mast today at Simcoe Hall, U of T Mississauga and U of T Scarborough in honour of Vincent Shen, who died Nov. 14.
He was a widely respected specialist in Chinese philosophy who joined the East Asian Studies department in 2000. He was a prolific author, with 29 books to his name and another due for publication.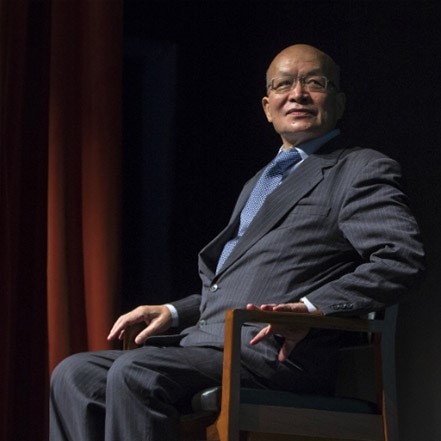 November 14, 2018
A message from Professor Janet Poole, Acting Chair of the Department of East Asian Studies
With heavy hearts we have to convey the news that Professor Vincent Shen passed away in the early hours of the morning on Wednesday November 14, after being taken suddenly ill on Monday. He was surrounded by his loving family, who had travelled from all over the continent, and he was at peace.
Professor Shen joined the Department of East Asian Studies in 2000, as the Lee Chair in Chinese Thought and Culture and served as Department Chair from 2007 to 2010. He held a joint appointment in the Department of Philosophy. A specialist in Chinese philosophy, specifically Daoism and Confucianism, Professor Shen was a prolific and widely admired scholar, the author of 29 books (with another forthcoming) and 150 articles and book chapters. He was greatly respected in his field. Professor Shen was the Executive Director and past president of the Chinese Philosophical Association, the Executive Director of the International Society for Chinese Philosophy and a Vice President of the Council for Research in Values and Philosophy.
Alongside Professor Shen's commitment to research we witnessed everyday his great care and devotion to his students. Many of those students now occupy research positions throughout Asia, Europe and North America. But Professor Shen generously shared his passion for Chinese philosophy with students of all levels. His warm guidance and encouragement has left a deep impression on many University of Toronto students over the years and set a high standard for his colleagues to follow.
Professor Shen was planning to retire at the end of this academic year and we were preparing a party to celebrate his many years of research, teaching and service to the department. Sadly, he has left us too soon, but we will be sure to find an occasion to celebrate his profound commitment to scholarship, his dedication to his students and his joyful interactions with us all as colleagues. He was a true philosopher and teacher.
The funeral service for Professor Shen will be held this coming Monday, November 19, at 10am at St. Basil's Church (50 St Joseph St, Toronto, ON M5S 1J4). The family has made arrangements for flowers; if you would like to make a donation in his memory, please consider donating to St. Basil's Church.
Further tributes and information on ways to remember Professor Shen will be posted here and we have created an online memorial page for people to share memories.
Faculty of Arts & Science In Memoriam: Vincent Shen (1949-2018)
In the meantime, please hold Professors Shen and Johanna Liu and their family in your thoughts over the coming days.
Yours in sadness,
Janet Poole, Acting Chair
Department of East Asian Studies
Categories