Most people snap a picture or take in the panoramic views when in the mountains. Cailleah Scott-Grimes, however, decided to shoot a short film.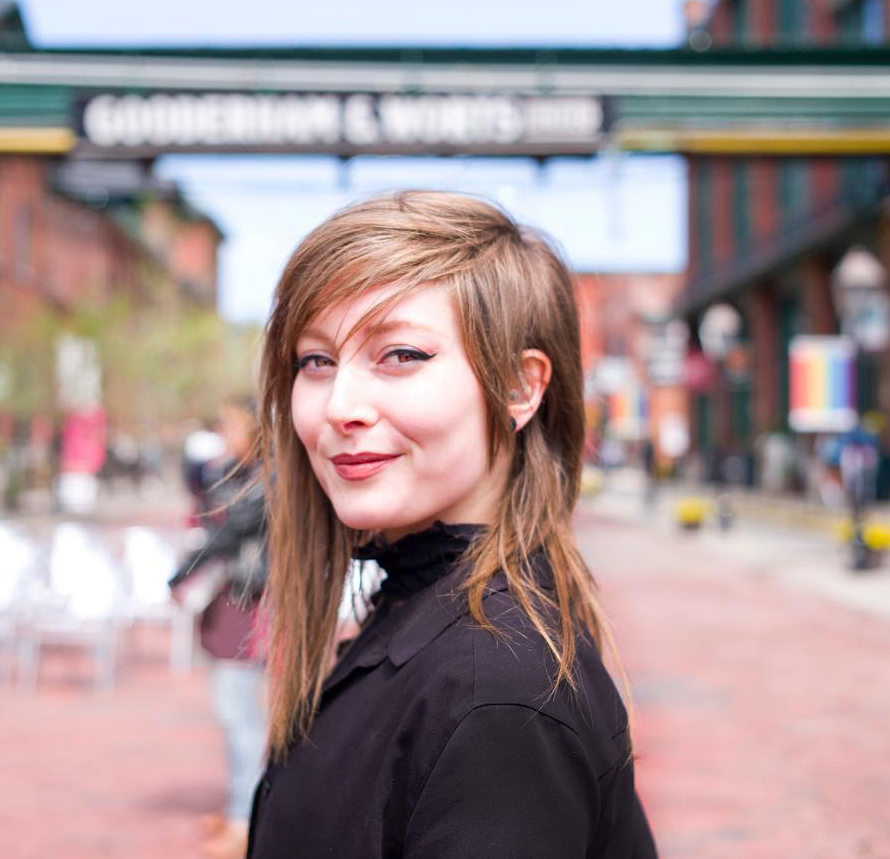 The East Asian Studies (EAS) and Visual Studies alumna recently screened her film, Between Us, at Toronto's Inside Out film festival. It is her MFA (Master of Fine Arts) thesis as part of her time in York University's Film Production program. Between Us was also the winner of this year's Lindalee Tracey Award, presented at the Hot Docs Film Festival. The short follows Kei, a young transgender man, and his queer Canadian partner as they navigate conflicting desires in rural Japan.
Between Us was filmed in four days in the hot springs of Japan's Yamagata mountains in November 2019. It features both the LGBTQ2S+ and senior communities in Japan's countryside, which were two important worlds for Scott-Grimes. It took her a long time to find connections in Japan, and she found that within LGBTQ2S+ communities, and trans communities specifically.
She formed deep friendships over the years and considers them her family away from home.
"Yamagata was where I was living and I decided to film there, so I could engage with my friends in the behind the scenes of making the film and bring in new actors. I wanted to weave a story that would talk about the relationship between immigrants in Japan and locals living in a rural area. It was cool to bring together trans folks and seniors who would never normally have a chance to meet or work on a project together."
The filming and casting processes were arduous, but Scott-Grimes felt strongly about the project and its story. There were extensive interviews for casting, as there was a priority to cast trans and non-binary people in the lead roles. Due to a lack of representation at traditional agencies, she used word of mouth to find the actors she needed to tell the film's narrative in an authentic way. Not to mention hail ruining her shots!
"It was one of the hardest projects I've ever done—for that same reason, it's also what made it exciting. All of it was about building trust because it was the first time for them [the actors] and also a challenge for me to work in Japanese. I think it set the stage for everyone being more vulnerable and open to trying something new together."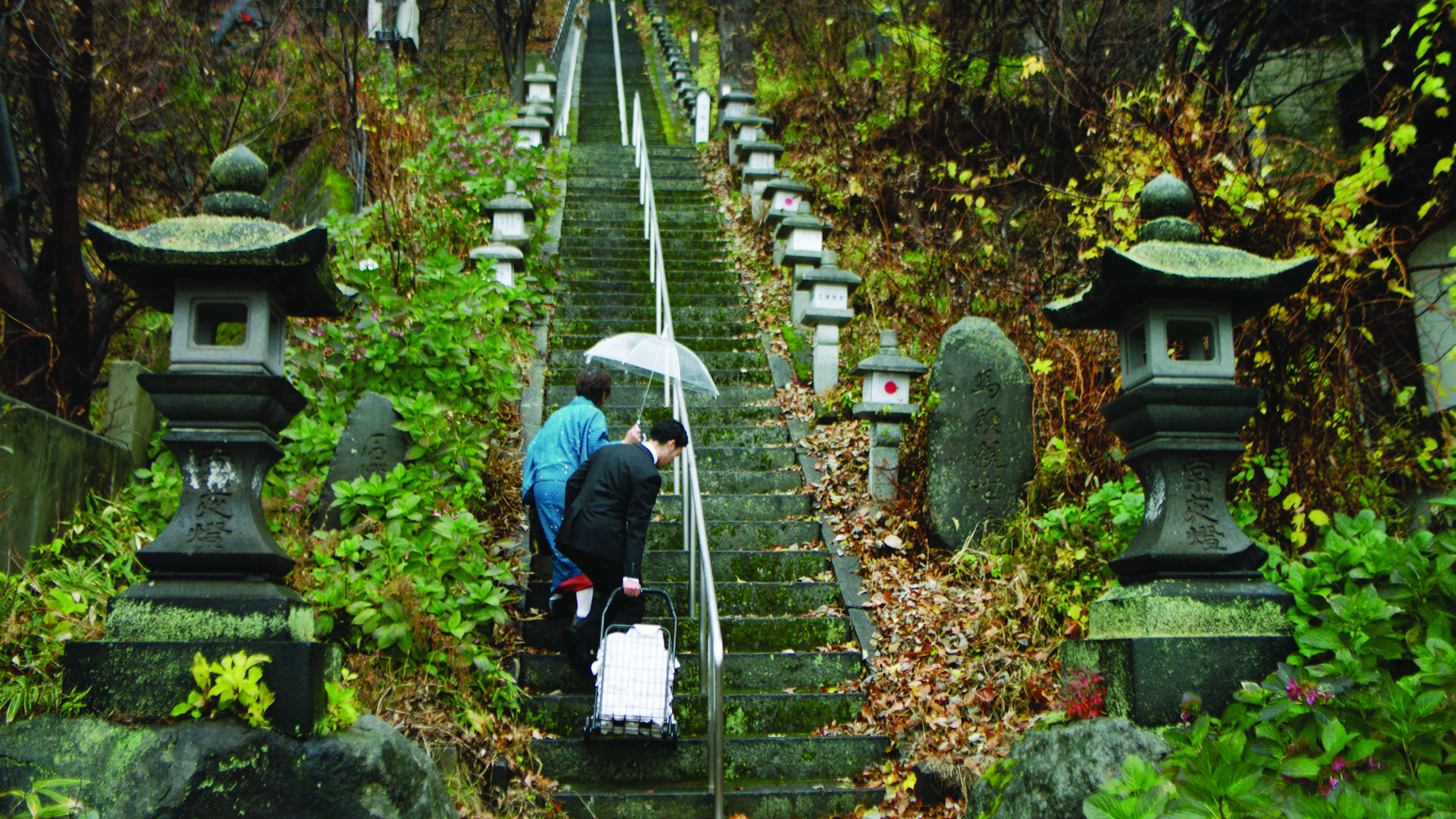 Scott-Grimes has been travelling to Japan for many years on various projects since her graduation from U of T in 2011. A linguaphile and art lover, she majored in Visual Studies and East Asian Studies, even though East Asian cultures and languages were not on her radar when starting university.
"I've been an artist of various kinds for my entire life. When I first came to U of T, I thought I would focus on the visual arts side, but because I love all these other art forms, I eventually realized that film combines all of these mediums. Specifically, I was interested in Japanese films but didn't know much about them until taking EAS courses. They opened my eyes to Japanese visual art, contemporary painting and film, which were huge influences."
At EAS, the focus was really on staying curious and open-minded. It was allowing other people's experiences to really shine through—for example, taking interdisciplinary approaches and not looking at things from one angle.
Scott-Grimes cites EAS Professors Eric Cazdyn and Jotaro Arimori as inspirations.
"There was a Japanese cinema course taught by Professor Cazdyn, which was absolutely pivotal for me. His courses demonstrated different types of filmmaking approaches, some of which, like [Hirokazu] Koreeda's films, bridge documentary and fiction to create an intimate fly-on-the-wall feeling of family life.
[EAS] was a great foundation. I loved Arimori sensei's classes—he was really fun and so organized. It was a great stepping stone to being in Japan and starting to use Japanese more frequently.
At EAS, the focus was really on staying curious and open-minded. It was allowing other people's experiences to really shine through—for example, taking interdisciplinary approaches and not looking at things from one angle. Those things were so important to learn—a film lives and dies in your ability to collaborate."
As convocation approaches, we asked Scott-Grimes about her advice for new grads. She put it simply: if you've got an interest or passion—follow it, no matter how small or niche it may seem. For example, aside from being a filmmaker, she's also an a cappella singer. One day, someone called her up for an opportunity to film a cappella concerts in Japan—it was a collision of her interests she never saw coming.
"Whatever your interests or talents are, somebody is out there looking for you. Think about what your strengths are and what excites you."
For Scott-Grimes, what excites her is film and the possibilities of artistic storytelling. On what people should take away from her first fictional film, Between Us, she hopes that the audience can think deeply about the relationships in their lives and what tough questions are not being answered.
"I see this film as asking, how do we initiate conversations that are difficult to have? We know we need to have them, but don't know where to start. Even within the umbrella of LGBTQ2S+, there is so much variety and so many different kinds of experiences. I wanted the film to be a bridge between generations, different cultural backgrounds and identities. It's meant to spark questions and hope."
For more opportunities to watch Between Us, check out the film's website or Instagram page. It will be premiering at the Korea Queer Film Festival from June 26 - July 18, 2021 (available online, within Korea) and the Honolulu Rainbow Film Festival from July 30 - August 15, 2021 (available online, worldwide).
Categories